It's no secret that dogs love playing tug of war, and the perfect toy for that is the classic rope toy. But dogs also love chewing on all-natural chews, so we combined the two to make one toy that all dogs will be sure to love! It combines the benefits of both toys into one convenient item. This rope and chew toy is perfect for keeping your dog entertained and can be used either as a chew toy or as something safe to play dog of war with your pup. What's more, the rope toy with antlers is an original TNC PETS idea!
Benefits of Rope Toys from TNC PETS
Safe chewing! This rope is hand made from 100% cotton; meaning it's entirely safe for dogs to chew on!
Healthy! The fibers in the rope can also floss your dog's teeth naturally as they play with the toy. Pet owners can rest assured that their pooch's dental health will be in good condition with this toy.
Durable! The tightly woven fabric and knots are sure to last. Owners of even the most aggressive chewers can be confident that they won't have to replace this toy anytime soon.
Variety! Not only is there a wide variety of antler or wood chews, but now we've combined that variety with a diversity of different rope toy styles. There's an endless combination of different antler pieces, antler sizes, rope length, number of knots, and types of knots. There's a rope and antler toy out there for every dog!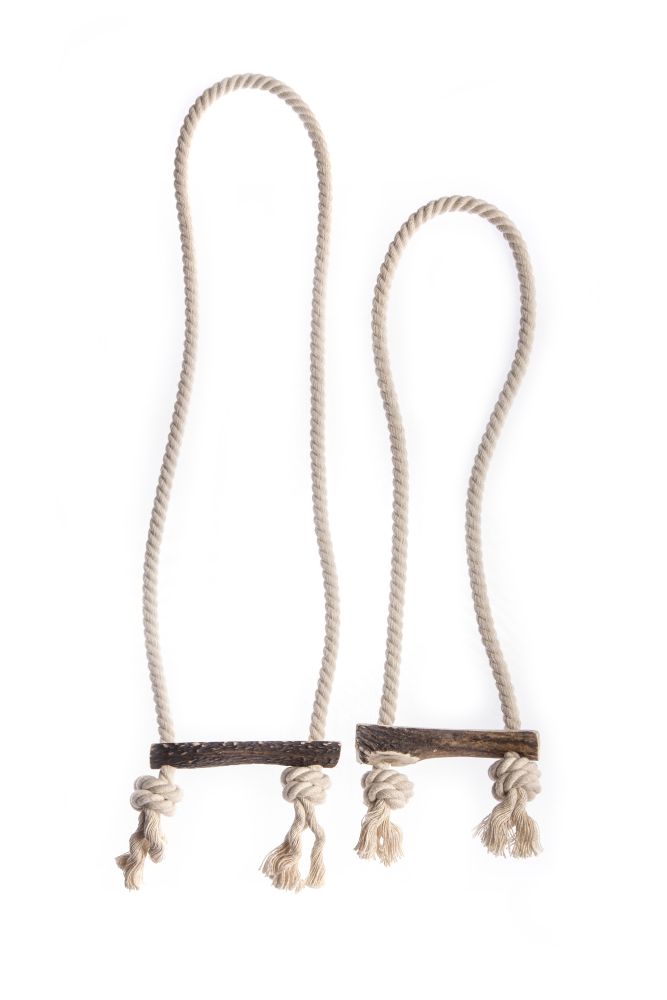 ---
Antler chews used in rope toys are 100% natural and handmade products! Each piece may have a slightly different look, shape or color.
---
ANTLER Rope Toys Variants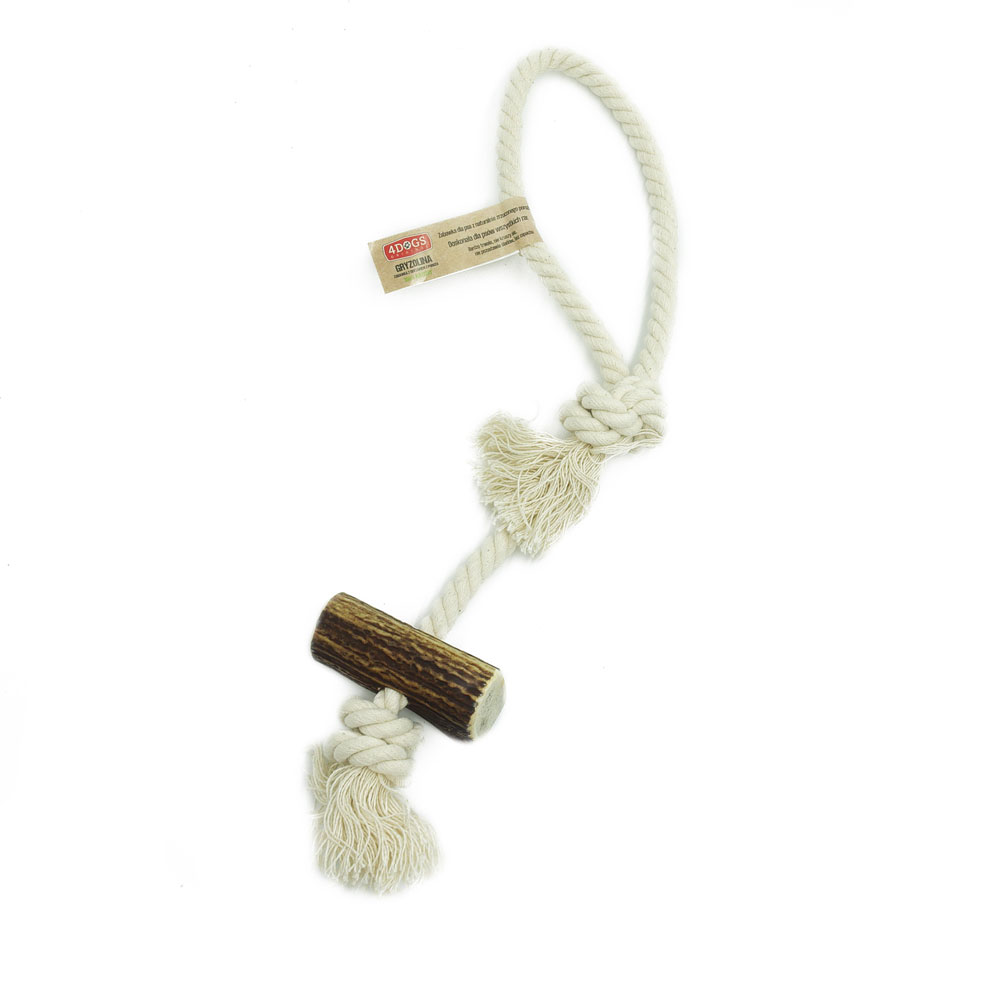 Rope Toy model LOOP
| Antler Size | Toy Length | Rope Diameter |
| --- | --- | --- |
| S (hard, easy, mix) | 30 cm | 10 mm |
| M (hard, easy, mix) | 40 cm | 10 mm |
| L (hard, easy, mix) | 40 cm | 12 mm |
| XL (hard, easy, mix) | 50 cm | 14 mm |
| XXL (hard, easy, mix) | 50 cm | 14 mm |
Rope Toy model KNOT
| Antler Size | Toy Length | Rope Diameter |
| --- | --- | --- |
| M (hard, easy) | 40 cm | 10 mm |
| L (hard, easy) | 40 cm | 12 mm |
| XL (hard, easy) | 50 cm | 14 mm |
| XXL (hard, easy) | 50 cm | 14 mm |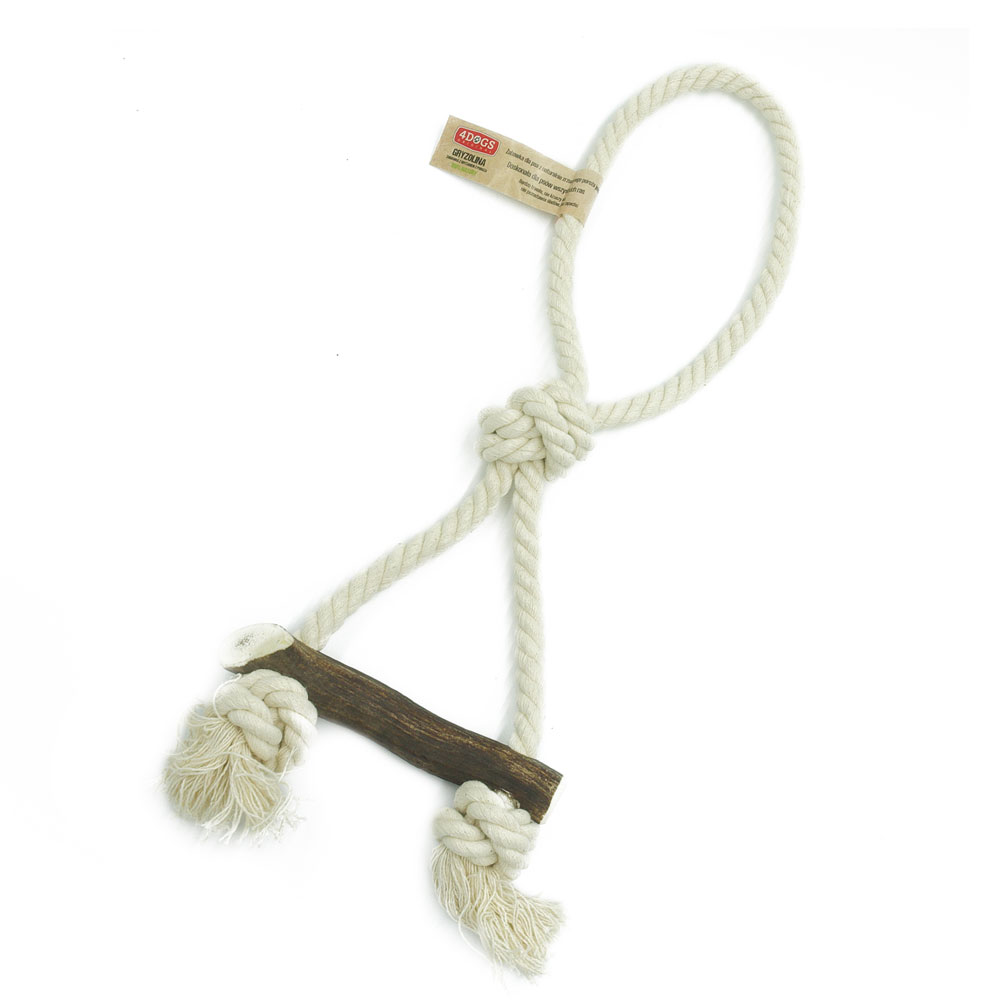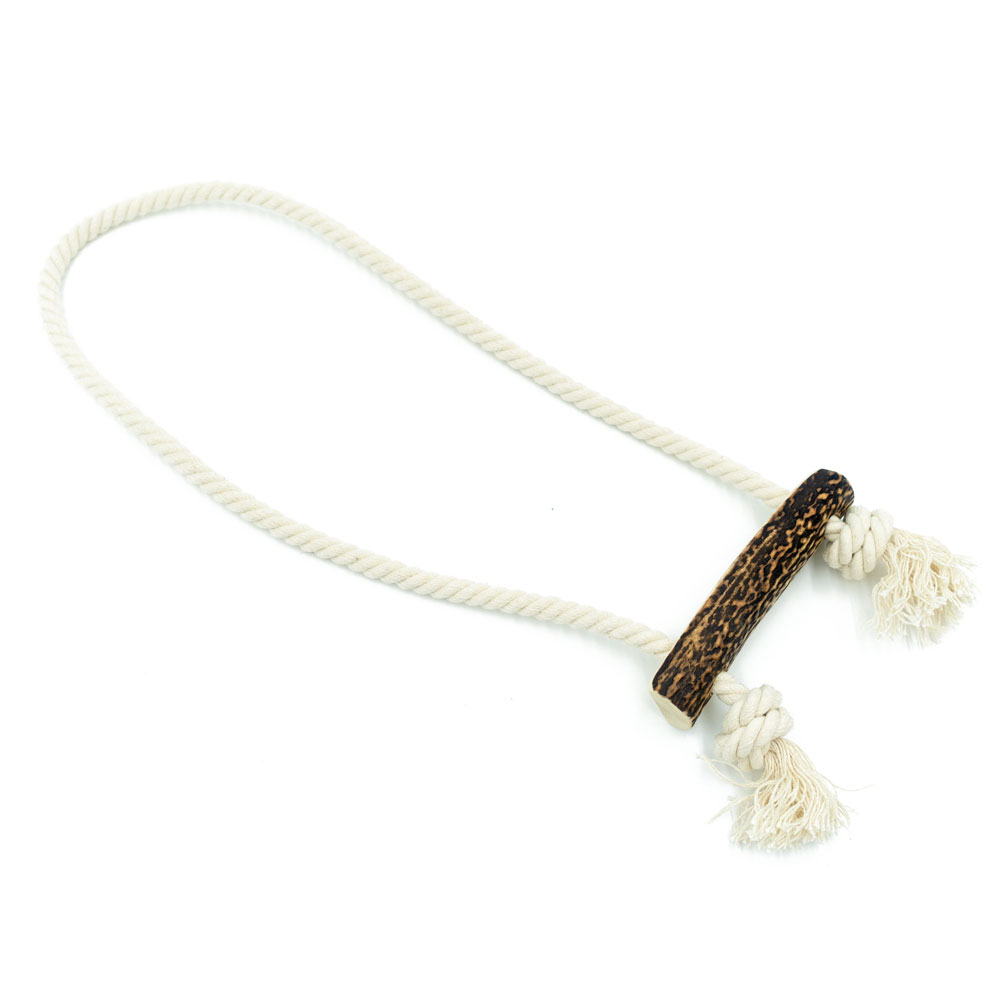 Rope Toy model HOOK
| Antler Size | Toy Length | Rope Diameter |
| --- | --- | --- |
| M (hard, easy) | 40 cm | 10 mm |
| L (hard, easy) | 40 cm | 12 mm |
| XL (hard, easy) | 50 cm | 14 mm |
| XXL (hard, easy) | 50 cm | 14 mm |
Rope Toy model STRING
| Antler Size | Toy Length | Rope Diameter |
| --- | --- | --- |
| S mix | 30 cm | 10 mm |
| M mix | 40 cm | 10 mm |
| L mix | 40 cm | 12 mm |
| XL mix | 50 cm | 14 mm |
| XXL mix | 50 cm | 14 mm |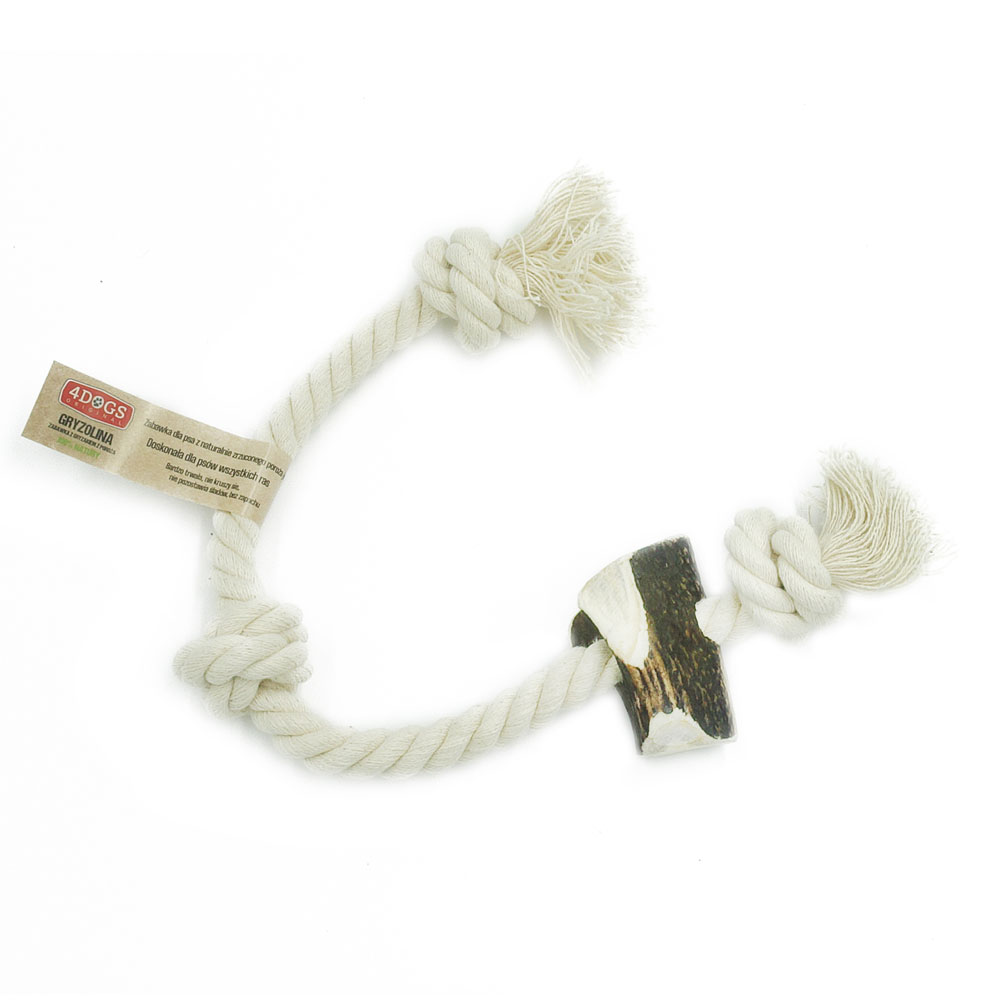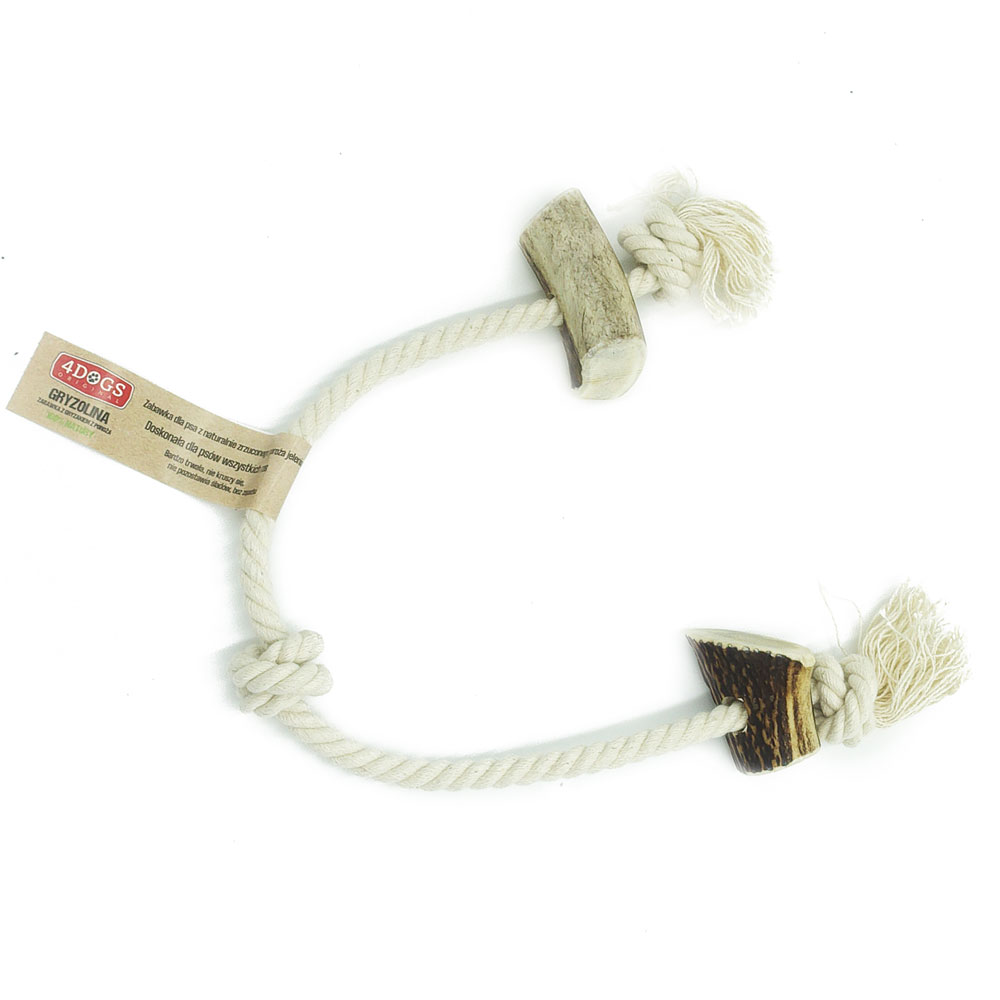 Rope Toy model STRING DOUBLE
| Antler Size | Toy Length | Rope Diameter |
| --- | --- | --- |
| S mix | 30 cm | 10 mm |
| M mix | 40 cm | 10 mm |
| L mix | 40 cm | 12 mm |
| XL mix | 50 cm | 14 mm |
| XXL mix | 50 cm | 14 mm |