Antler & Minerals Supplements in Tablets or Powder
Deer antlers: successfully used for decades, they strengthen many functions of the body. Due to their high nutritional value and the presence of biologically active substances, the antlers exhibit unique regenerative properties, specifically the cell restoration. The greatest potential of deer antler lies in their ability to regenerate cartilage and pellicle tissue of the skin due to the presence of antler polypeptides with antioxidant properties. The composition of deer antlers also includes all essential amino acids which the body cannot produce by itself and therefore have to be obtained from one's diet.
The content of organic matter in the antlers ranges from 36% to 52%. Calcium, phosphorus, magnesium, zinc and manganese are the most common minerals and their total content is fairly constant. Compared to other mammalian antlers, the deer antlers have a more balanced content of minerals, which increases their elasticity and resistance to fracture. Hence, dogs are not exposed to the risk of long and sharp splinters while chewing them.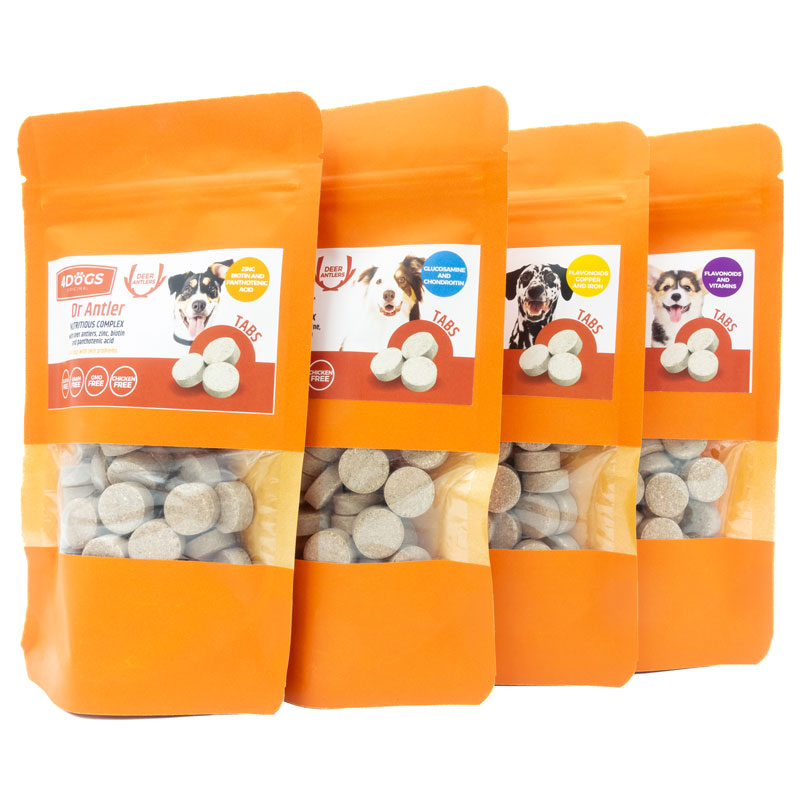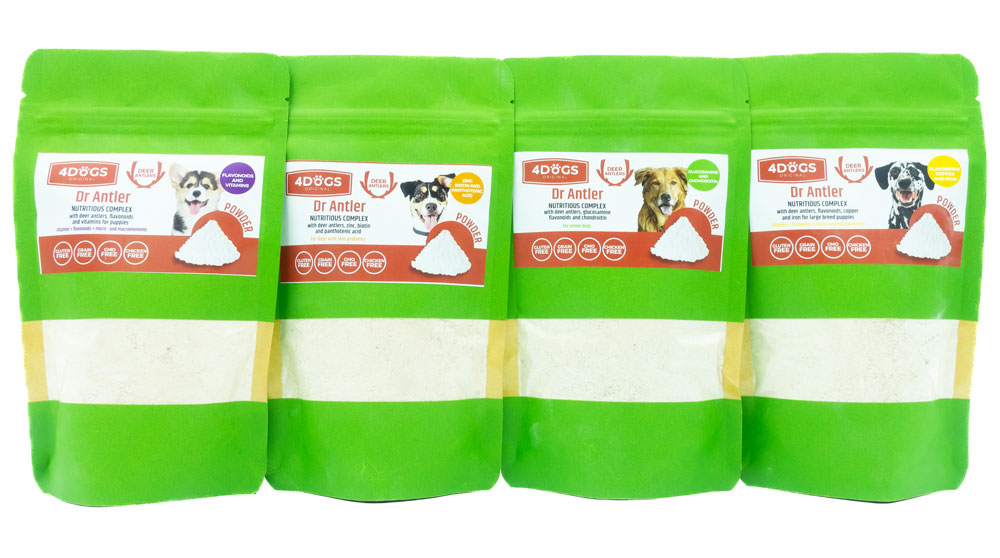 An interesting application of powdered deer antlers due to the high content of sulfuric amino acids may be healing of dermatological diseases of dogs and cats. Among all the amino acids, due to their beneficial effect on the health and elasticity of skin, the sulfur amino acids, i.e. methionine and cysteine, are worth mentioning. Cysteine is an endogenous amino acid that makes up about 17% of hair proteins and methionine makes up 0.5% of hair proteins. These sulfuric amino acids are the main component of keratin, which is found in skin, hair and claws.
A common challenge faced by owners who prepare home food for their dogs is finding dietary supplements that are an adequate and sufficient source of minerals. Using meat and other animal products as the basic raw materials used in this type of food, usually only about 10% of the dietary mineral demand is supplied. Therefore, powdered antlers are a convenient addition to supplement your dog's home diet, as they boost their intake of the most important minerals, including calcium, phosphorus, and magnesium.
Products such as ground antlers, in addition to being a source of phosphorus themselves, through their influence on the functioning of the digestive tract also do not affect the absorption of other minerals from the digestive content.
Some dogs are bored by antlers and others may not have the patience or energy required to chew on one. The antler powder or tablet supplement is perfect for these kinds of dogs because it's an easily digestible, odorless powder that can be mixed into their food, providing them with the various health benefits of antlers without any of the hard work!
TNC PETS offers a variety of products that are made from at least 4% powdered red deer antlers – tablets, oils, powder, etc. under the brand 4DOGS Original® or as 'private label'.
In TNC PETS offer you will find the following types of supplements:
| Tablets | Powders |
| --- | --- |
| Antler tablets Skin&Coat | Antler powder Skin&Coat |
| Antler tablets Fresh Breath | Antler powder Senior Dogs |
| Antler tablets Healthy Joints | Antler powder Active Dogs |
| Antler tablets Senior Dogs | Antler powder Adult Dogs |
| Antler tablets Adult Dogs | Antler powder Large Puppies |
| Antler tablets Large Puppies | Antler powder Small Puppies |
| | 100% Pure Antler Powder |
| | |